3D Modeling and Transformations
CS 357 HW3
due Friday, April 10
In this assignment you are to model a 3D ferris wheel. I'm going to leave this pretty open-ended. At a minimum you need to have a wheel (which could be a polygon) that rotates, with chairs hanging from it that remain horizontal while the wheel rotates. A very simple version might look like this: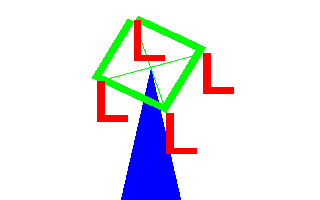 There are three distinct parts to this assignment: the modeling, the transformations, and the user interface.
For the modeling, make this really three-dimensional. There should be two parallel wheels, with the chairs extending from one to the other. The modeling can be realistic or fanciful, but make it interesting in some way. The rest of the environment can be whatever you wish.

For the transformations, it is important that the wheel spins and the chairs move with it, yet have their own independent motion (or lack of motion). The chairs should remain horizontal as the wheel rotates, so someone could sit in them. Do this the way we discussed hierarchical modeling in class. You are welcome but not required to add other motion to the scene.

The user interface should have at a minimum a button for starting/stopping the wheel rotation, and a quit button to exit the application. If you wish, you may provide controls to move and re-orient the viewer, to allow the user to better appreciate the beauties of your design. You can put whatever limits you wish on the user's ability to look around. You are welcome to add other controls.
I suggest that you do this by first constructing a simple model, like the one pictured above, get the transformations working, and then improve the modeling.
Finally, assign materials to the geometry and use one or more light sources to illuminate your ferris wheel. We will talk about maerials and lighting in OpenG soon. There is plenty for you to do before you get to that stage.
Part of the grade for this assignment is based on doing something creative with it. I would like you pend some time making the modeling look especially good, or doing something interesting with the transformations. There is a lot of power in OpenGL; make use of it.
This is due on Friday, April 10, which is two weeks after Spring Break. Your next assignment will be to write a ray tracer, which is very exciting, so you want to get this one done.